HYDRO Zero Threshold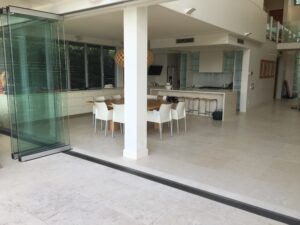 Seamless and water proof design
Hydro Zero Threshold drains provide a seamless design for your indoor and outdoor area where waterproofing is vital with no modifications required to door frame. All systems are custom made to application requirements.
Key features:
Trough with subsill tray.
Suitable for variable run lengths with multiple outlets.
Multiple stainless steel grate designs.
Applications
The Zero Threshold trough system is designed for bi-fold or sliding doors and allows water to easily move from the trough to the external drain.
Need more Waterproofing?
Hydro troughs can be manufactured with Membrane Flanges to enhance waterproofing. Ideal for balconies, outdoor patios and entertainment areas.
For more information on these items or any of Hydro's Products, please contact our expert team. If you need a one-stop shop for your next project, check Jaybro for civil and infrastructure supplies throughout Australia & New Zealand.